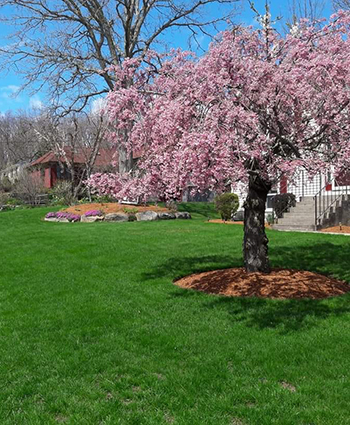 I have the best lawn on the street, thanks to Mike and his team. We had a major overhaul after pulling out two big trees in the front--which looks great. This past summer, we removed a large pool and blended the grass with the rest of the lawn in back. I had expected to be fighting with weeds and bare spots for the next two years. Much to my surprise, at the end of the fall there were no weeds and the grass was both very thick and blended well.
I would recommend Mike to anyone who needs a true professional, or to a weekend warrior who believes there could not be any improvements in their lawn. Rest assured that weekend warrior's neighbor is going to begin working with Mike and have a better lawn than the rest of the neighbors.
David's visit a while ago has made a big difference in our lawn. Weeds are almost non-existent (including clover, which was rampant) and the lawn is a lush green. Great job!
Mike has been providing my lawn care for a number of years and my grass has never looked better. He provides personal and trustworthy service. I would highly recommend Mike to anyone looking for a lawn care specialist.
Mike has been taking care of my lawn for over 10 years. He is very knowledgeable about all lawn treatment and pest issues, and always recommends the right products and treatments. My lawn used to be a mess before Mike took over. Now, it's the greenest lawn on the street.